So Long Slade: PSU RB Ricky Slade Jr. Enters Transfer Portal
The News:
Penn State RB Ricky Slade announced this week that he will be entering the NCAA transfer portal. Once looked upon as the successor to Miles Sanders and Saquon Barkley, the talented Junior never managed to lock down the top job in Happy Valley. After putting up an impressive 6 TDs in limited touches his Freshman season, Slade fell to 5th on the team in rushing yards this past year.
The Player:
Despite failing in his bid to take the top spot at Penn State, Ricky Slade will not lack for suitors. Once looked upon as one of the top RB in the nation, Slade came to PSU as a 5-Star recruit out of C.D. Hylton High School in Woodbridge, VA. He was even the no.1 All-Purpose RB in the nation as rated by 247 sports.

Early favorites to land Slade via transfer would be Virginia Tech, James Madison, Duke and other schools that recruited him highly out of High School. Another possibility would be for Slade to follow recently departed former OC Ricky Rahne to Old Dominion to become the centerpiece of the coaches new program. Any of these schools will be happy to add a player of Slade's talent and profile.

The Program:
While it is never ideal to lose a 5-Star recruit, few schools are as capable of absorbing the loss as Penn State. As I mentioned above, Slade was 5th on the team in rushing during his Sophomore season. Of the four that finished ahead of him, three were fellow RBs.

It is almost certain that Journey Brown and Noah Cain will have the top two spots locked down heading into 2020. The talented Junior and Sophomore backs will look to form a thunder and lighting combination for new OC Kirk Ciarrocca. Each player was highly recruited in their own right and had passed Slade on the depth chart last season. Their styles pair perfectly as you can see below.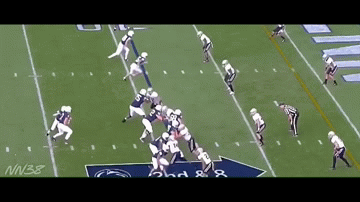 Final Thoughts:
The program does not only return its top backs but coach Franklin is restocking the pantry as well. Franklin managed to entice a pair of 4-Star RBs to come to an already crowded RB room. Caziah Holmes & Keyvone Lee represent the next group of top level PSU RB recruits.

Penn State is quickly becoming a destination program for the nation's top RB. As you will see with other top level programs like Alabama, Georgia, and others, players sometimes fall behind or between the cracks. Competition is the name of the game for the nation's best programs. Despite the loss of Ricky Slade Jr., PSU is locked and loaded with some of the best RBs in the nation.

I hope that you enjoyed this article. Follow me on twitter @ReflipeWThenuz for more Penn State content, dynasty football articles, and much more. Don't forget to check out Saturday-tailgate.com for much much more on college football.

Luckiest man alive. Father, Husband, Son, Brother, and college football enthusiast. Ph.D in 20th Century U.S. History. Love researching and writing about things that interest me. Looking forward to sharing my musings on college football with all the readers of this amazing website. Follow me on Twitter: @ReflipeWThenuz